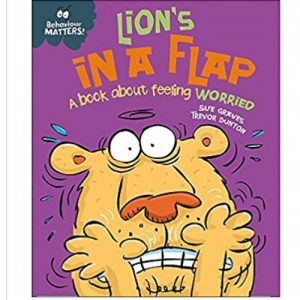 Lion is off on a school trip to Jungle Land - the most exciting theme park EVER! He should be thrilled, but he cannot stop worrying and it's ruining the trip for him. Can Miss Bird and his friends help him to relax and have fun?

'Lion's in a Flap' by Sue Graves and Trevor Dunton is a "lively picture book that examines the issue of being worried in an amusing but reassuring way through animal characters – perfect for young children who have feelings of anxiety and worry."

It is part of a series Behaviour Matters, which is perfect for sharing with children as a gentle means of discussing their emotions, boosting self-esteem and reinforcing good behaviour. Each book has a fun story featuring fantastic characters which is backed up by suggestions for activities and ideas to talk through together. They support the Personal, Social and Emotional Development Area of Learning in the Early Years Foundation Stage.
Find out more or get a copy here:
www.booksforbugs.co.uk/product/lions-in-a-flap-a-book-about-feeling-worried/

www.amazon.co.uk/Lions-Flap-feeling-worried-Behaviour/dp/1445142252