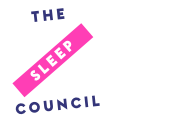 The Sleep Council exists to help everyone get a better nights sleep. For 25 years they have been sharing information and resources about what to do, what not to do and where to go to get further help for restorative rest.

They offer:
– Practical advice and support to help you adopt healthier sleep habits
– Raising awareness of a good night's sleep to health and wellbeing through key awareness events
– Campaign for change so that everyone has access to sleep support – whether that's through health services, employment or education.
Website: sleepcouncil.org.uk
Email: info@sleepcouncil.org.uk