On Tuesday 19th November we visited St Martins specialist school in Alvaston, Derby to see how the school has fully embraced and embedded a whole school approach to its young people's Emotional and Mental Health.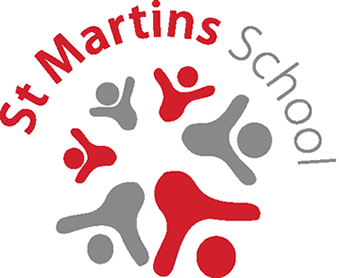 The first thing that is apparent when visiting St Martins and speaking to the staff for the first time is the absolute passion they have for their young people's emotional and mental wellbeing. Throughout the visit it became clear that creating a supportive environment for their young people's emotional and mental wellbeing sits closely allied to providing a meaningful and quality education. Crucially, and as was emphasised to us by our tour guide, the schools DSLMH Emma Banks, the two sit in parallel with each other occupying equal states of importance in the culture of the school. After all, as Emma says, "young people can't learn when they're in a bad place emotionally."
St Martins has embedded the emotional and mental wellbeing culture through the application of mechanisms and support into all aspects of school life - from the governance and leadership structures, the mindset of the teaching staff, the structure of the timetable, the approach to teaching and the curriculum itself and even to the design and layout of the walls and noticeboards.
In particular, the use of parallel governance and leadership structures that have a specific remit of mental health and wellbeing across the school seems vital. Having a group of Governors and Assistant Headteacher Laura Crawford to strategically lead wellbeing across the school ensures inclusion of emotional and mental wellbeing and embeds it in the strategy of the school. The pupils themselves are then integrated into the system through a well-being committee which is a part of the student council structure, which itself links directly to the Governors.
This is then reinforced and anchored in the day-to-day actions of the school by Emma's team of wellbeing support staff who (alongside other things) operate a simple but effective system of pupil and staff referrals for extra support. Any teacher can refer a pupil or a pupil can refer themselves, and once their needs are assessed by the team, they will unlock a myriad of individualised and bespoke interventions to support that young person.
These interventions can range from a simple 1-to-1 conversation to an individualised timetable for that particular young person. Importantly, these interventions aren't necessarily off-the-shelf solutions brought in from external organisations - they are most often designed as specific, bespoke and individual solutions to the needs of that young person.
Emma recognised that by no means was the system St Martins have implemented perfect or easy at times - in the past it had over-relied on individual members of staff and suffered as a result of those staff taking time away. There had also been some issues regarding teacher buy-in and a contention around taking a young person out of classes, particularly on a regular basis. However, after three successive 'Outstanding' ratings by Ofsted and a larger wellbeing staff team the results clearly speak for themselves.
If you have any direct questions for Emma or if you would like to discuss any of the details above in further depth, don't hesitate to send her an email at - E.Banks@stmartins.derby.sch.uk. You can also contact Laura Crawford, St Martins Assistant Headteacher, SENCO and Designated Safeguarding Lead at - L.Crawford@stmartins.derby.sch.uk