Second Meeting of the Mental Health Network
October 17, 2019
On World Mental Health day, Thursday 10th October, Derby held its second event for the Designated Senior Lead for Mental Health (DSLMH) network at Pride Park Stadium. It was attended by over half of Derby Schools alongside professionals from both local health services and exciting new Children and Young People's mental health initiatives.

You can find the news article here
The Queen's Speech
October 14, 2019
On Monday 14th October, Her Majesty Queen Elizabeth II delivered the 65th Queen's Speech of her reign setting out the current Government's plans for this Parliament - which included a renewal of the pledge to improve mental health.
Any state occasion is worth noting, but the Queens Speech is a particularly important event in the national calendar. Not only does it form a crucial part of the State Opening of Parliament, it also sets out the legislative agenda for the incumbent Government (despite only usually lasting about 10 minutes).

While most of the focus will undoubtedly be on the Brexit elements of the speech, there was a brief line which will directly impact on mental health provision and care in the UK - "New laws will be taken forward to help implement the National Health Service's Long Term Plan in England."

The BBC has concluded that this statement will not only engender a renewed commitment to the plan originally unveiled under Theresa May's premiership, but that it also includes a raft of new legislation to continue improvements to mental health care and improving patient safety.
Source(s):
+ https://www.bbc.co.uk/news/uk-politics-50016682
+ https://www.bbc.co.uk/news/uk-politics-32816450
Next Thursday is World Mental Health Day!
October 6, 2019
Next week, Thursday 10th October, is World Mental Health Day. This is the 27th consecutive year that it has been recognised worldwide, and the 22nd year to carry a dedicated theme. This year's theme is Suicide Prevention.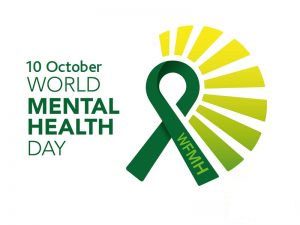 Since it was first recognised on 10th October 1992, hundreds of worldwide, nationwide, regional and local organisations, communities and individuals have been, in a variety of interesting and innovative ways, raising awareness and support of mental health and Mental Health Issues right across the world in over 100 countries.

With themes ranging from 'Mental Health and Human Rights (1998)' to "Living with Schizophrenia (2014)" World Mental Health day has looked to address a wide range of topics.

This year's theme is Suicide Prevention and the World Mental Health Federation have put together a pack of helpful "Tools and Tips" which you can find here - https://wfmh.global/wmhd2019-tools-and-tips/

If you want to go even further, check out the social media to get involved:

Twitter - @WMHDay
Facebook - @WMHDay1
---
Don't Forget - Last year's theme for World Mental Health Day was "Young People and Mental Health in a Changing World". Check out the information pack here - wfmh.global/2018
---
Source: https://wfmh.global/
The Fantastic 107
September 30, 2019
As of Thursday 26th September, 107 Derby City Schools have started training for a 'Designated Senior Lead for Mental Health' (DSLMH) within their staff team.
On Wednesday 25th and Thursday 26th September 64 staff members from 62 Derby City schools undertook the first of two days of training required to become recognised as a DSLMH, bringing the overall number to 107 across the city. Representing a wide range of school providers, including the Virtual School and a number of special schools, staff were put through their paces by their trainer from the Carnegie School for Education, University of Leeds.
Staff completed a range of activities and exercises intended to get them thinking about the mental and emotional health provision in their schools, with a particular focus on how to embed a "whole school approach". DSLMH's will be asked to complete a mental and emotional health action plan for their school after the second day of training in January.
38 schools now have a fully trained DSLMH
July 16, 2019
We have now concluded training for the first wave of schools in Derby to take part in the Emotionally Healthy Schools Programme.
Congratulations to the 38 new Designated Senior Leads for Mental Health to have fully completed the training and are now ready to lead the way for their schools.
For more information about the training, please get in contact.
Schools Mental Health Network meets for first time
May 15, 2019
On Tuesday 14th May, Derby held its first Designated Senior Lead for Mental Health (DSLMH) Network Event at the Derby Conference Centre. It was attended by 65 Derby schools alongside professionals from local mental health services including the NHS and Public Health.
It was an important event to mark Mental Health Awareness Week and also the progress made by Derby's schools to date following investment from the Derby Opportunity Area Programme.
Read the full article here.
Mental health champions to be created for pupils in all Derby school
March 12, 2019
Head teachers across Derby have identified pupil emotional health as one of their prime concerns and barriers to success - so new mental health leaders will be appointed for every city school. Redwood Primary School is leading the project...

Read full article here.
Emotionally Healthy schools project launched at beginning of Children's Mental Health Week
February 5, 2019
This month sees the launch of the Emotionally Healthy schools project in Derby. This £598,000 Opportunity Area funded project, which is being managed by Redwood Primary School, Executive Headteacher Jane Calladine, is designed to help school leaders in Derby improve outcomes for Derby pupils by helping to create supportive environments, policies and practices that are conducive to positive emotional well-being...

Read the full article here.
Council to award grant for emotionally healthy schools
September 10, 2018
Derby City Council are to award a grant of £596,000 to Redwood Primary School to lead and co-ordinate a programme across the city to develop emotionally healthy schools with the money coming from the government backed Opportunity Area programme grant...

Read full news article here.